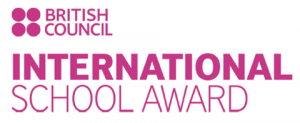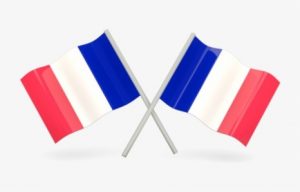 BONJOUR ET BIENVENUE À TOUS!
Welcome to the St Thomas' MFL/French pages. Please follow the link for your year group to find French activities which are targeted for you, but of course you are welcome to take a look at other year pages too! Further down this page you will also find lots of other information which you can access if you wish – including other languages, information about language learning at our school and our fantastic Erasmus+ project!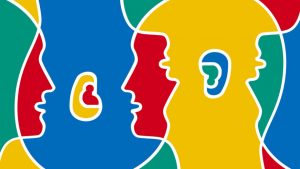 EUROPEAN DAY OF LANGUAGES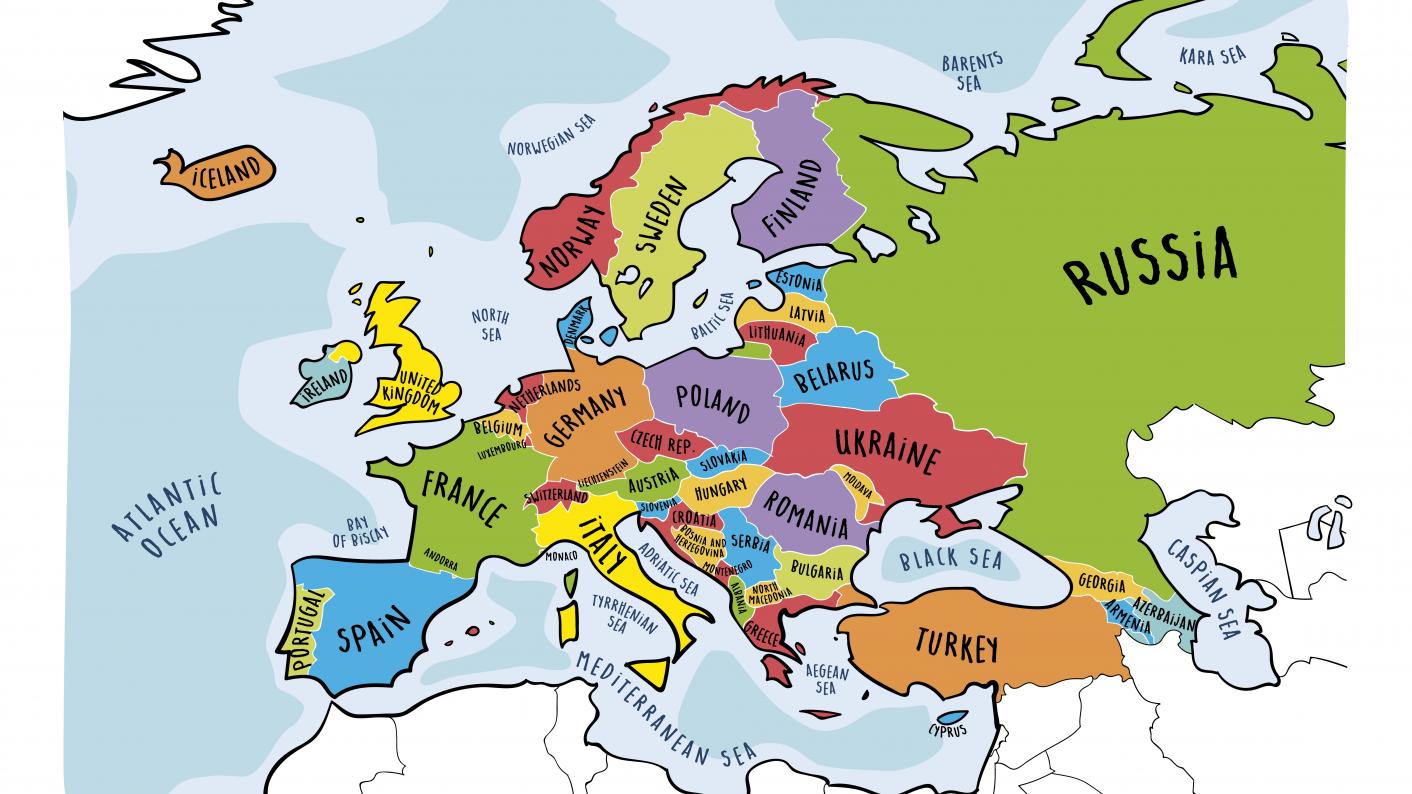 Every year we think about other languages spoken in the world and are always amazed at the number of children who speak other languages themselves or know people who do!
Here are some links for learning about other languages:
Interactive European language map
Hello to all the children of the world!
There are 25 languages sung in this version of a familiar song!
20 versions of this famous scene from 'Star Wars'
Bow wow , wouf wouf or bau bau? You decide!
EDL-animal-cards-all – more animal sounds!
Check out your knowledge of European flags with this interactive quiz
Languages take you further – view or download booklet here
Euroclub schools – quizzes on French, Spanish and Italian language and culture
INTERNATIONAL LINKS
During 2021-22 we shall be continuing our link with the École Hélène Boucher in Toulouse, which started with our Erasmus + project in 2017. We are also planning other initiatives which will enable us to celebrate linguistic and cultural diversity over the coming months.
ST THOMAS' ERASMUS+ PROJECT
At St Thomas' we are really proud of our very successful 2 year Erasmus+ Project. Over this time 14 staff benefited from attending training courses in Carcassonne and spent time building our link with the Hélène Boucher School in Toulouse. We have continued to use the many resources produced by staff on the course and to deepen the link with the school in Toulouse.
Please do look at the information below to remind you of the staff involved in the project.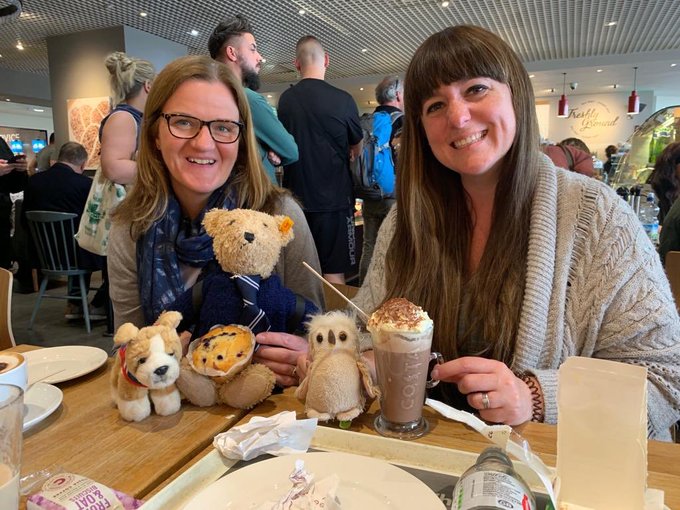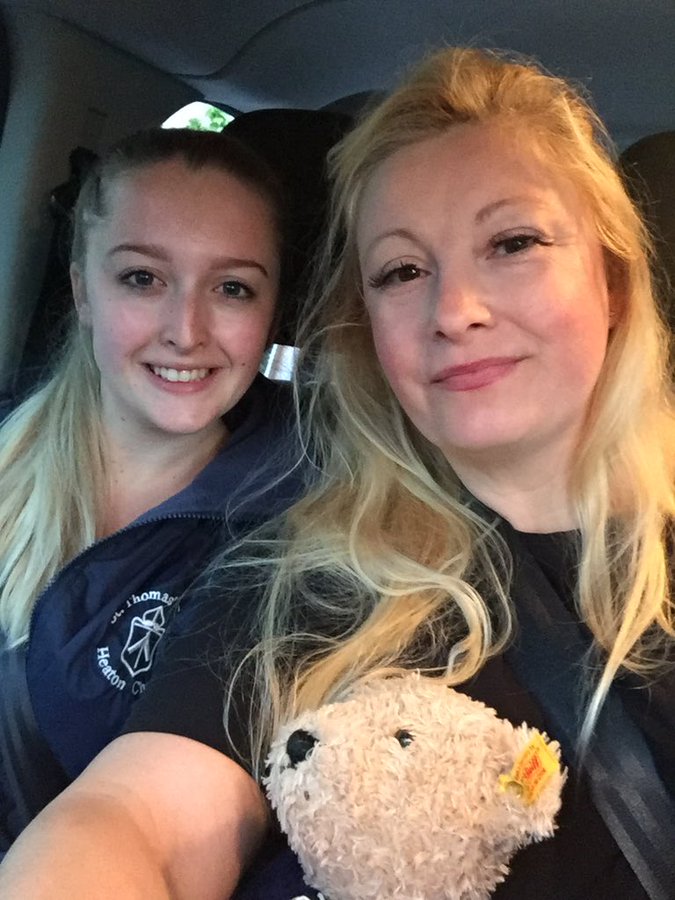 Miss Harnett and Mrs Boardman went to France in May 2019, then Mrs Gibbs and Mrs Jorgensson were the final staff from St Thomas' to take part in our two-year Erasmus+ project in June 2019.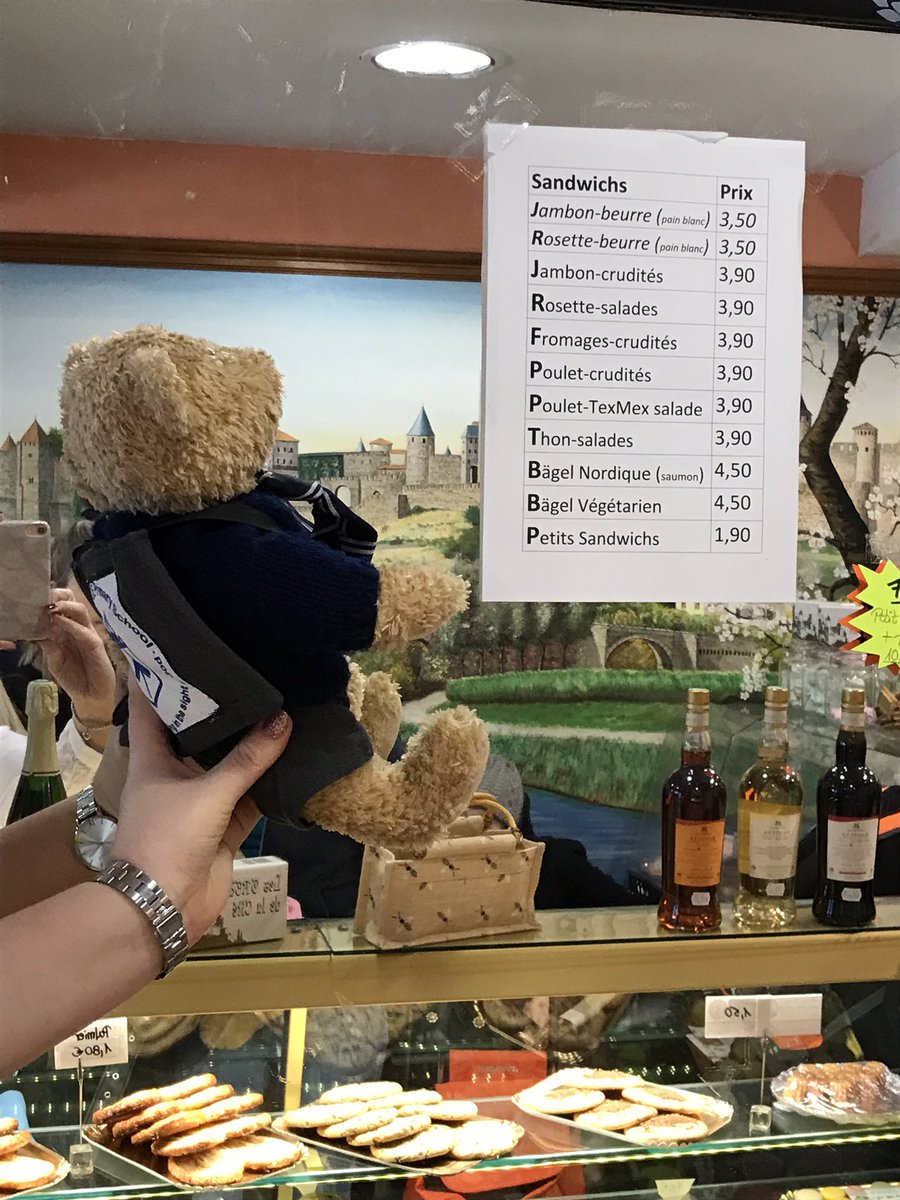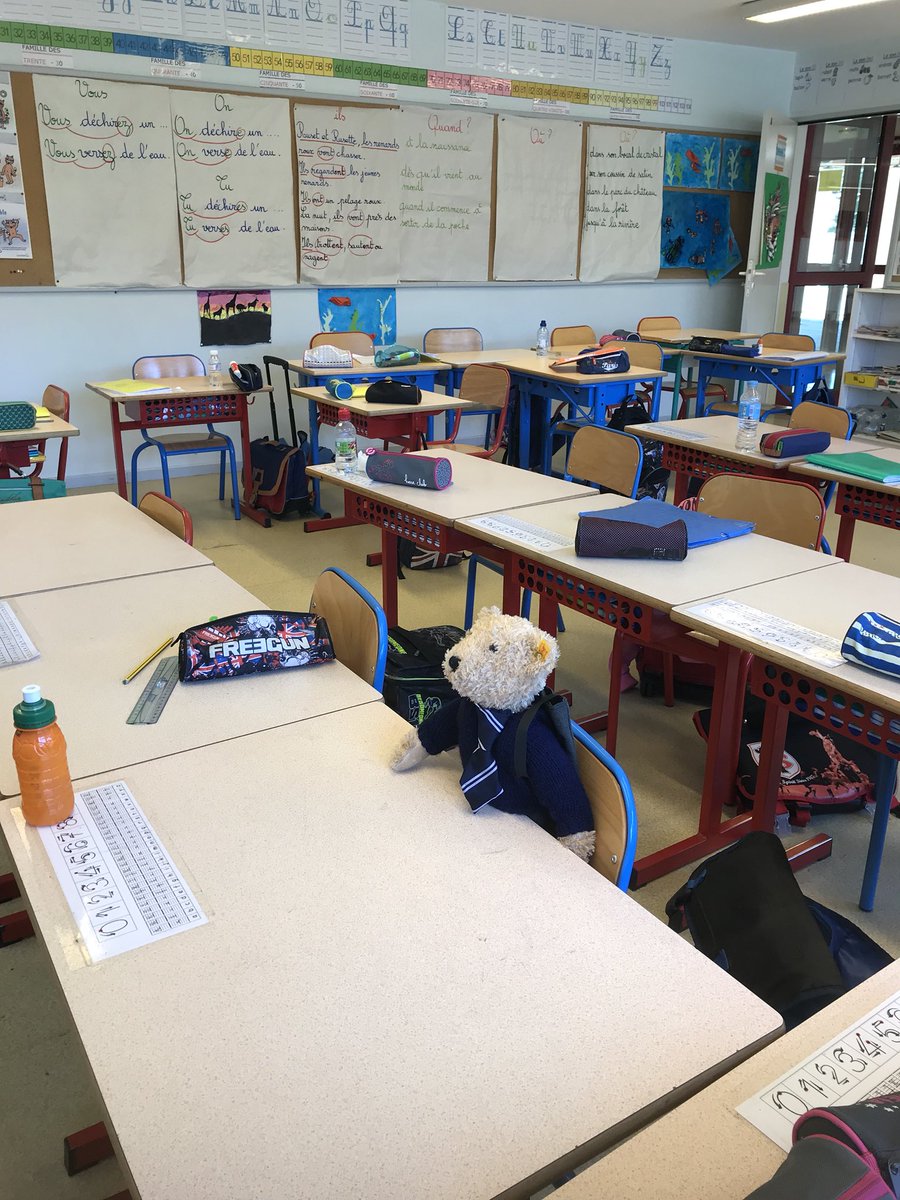 Our Erasmus+ project was a fantastic opportunity for staff to research the history of the beautiful town of Carcassonne and to gain a real insight into French culture. While in France teachers worked hard on improving their French and also spent one whole day in our link school in Toulouse where they taught English to some classes and saw what it's like in a French school! Our pupils prepared lots of material which was taken to France, and we have loved the materials sent back by the French pupils!
PHOTOS FROM EARLIER TRAINING COURSES – can you recognise all the teachers who have been to Carcassonne and Toulouse?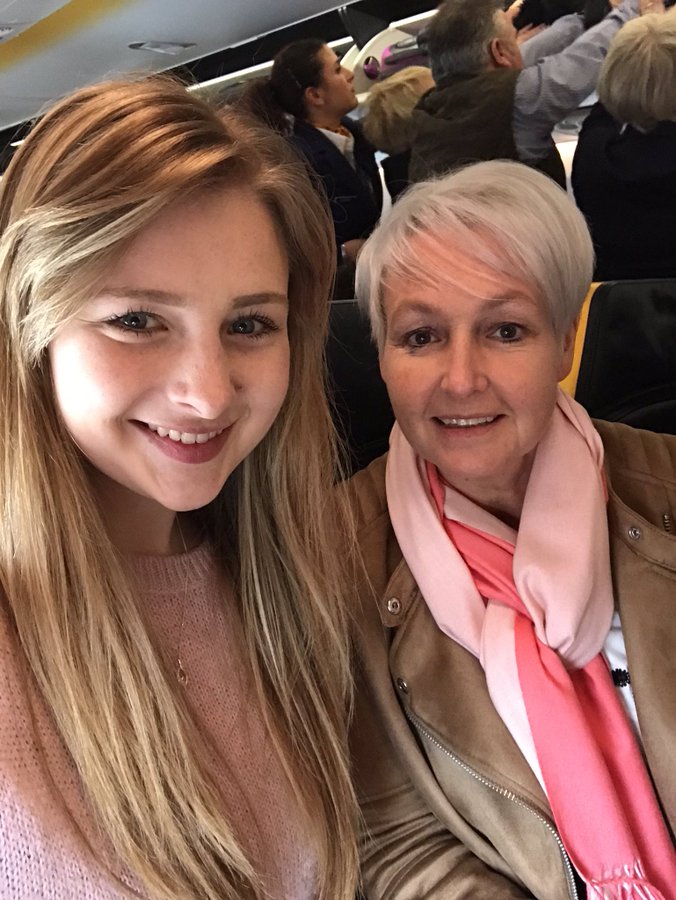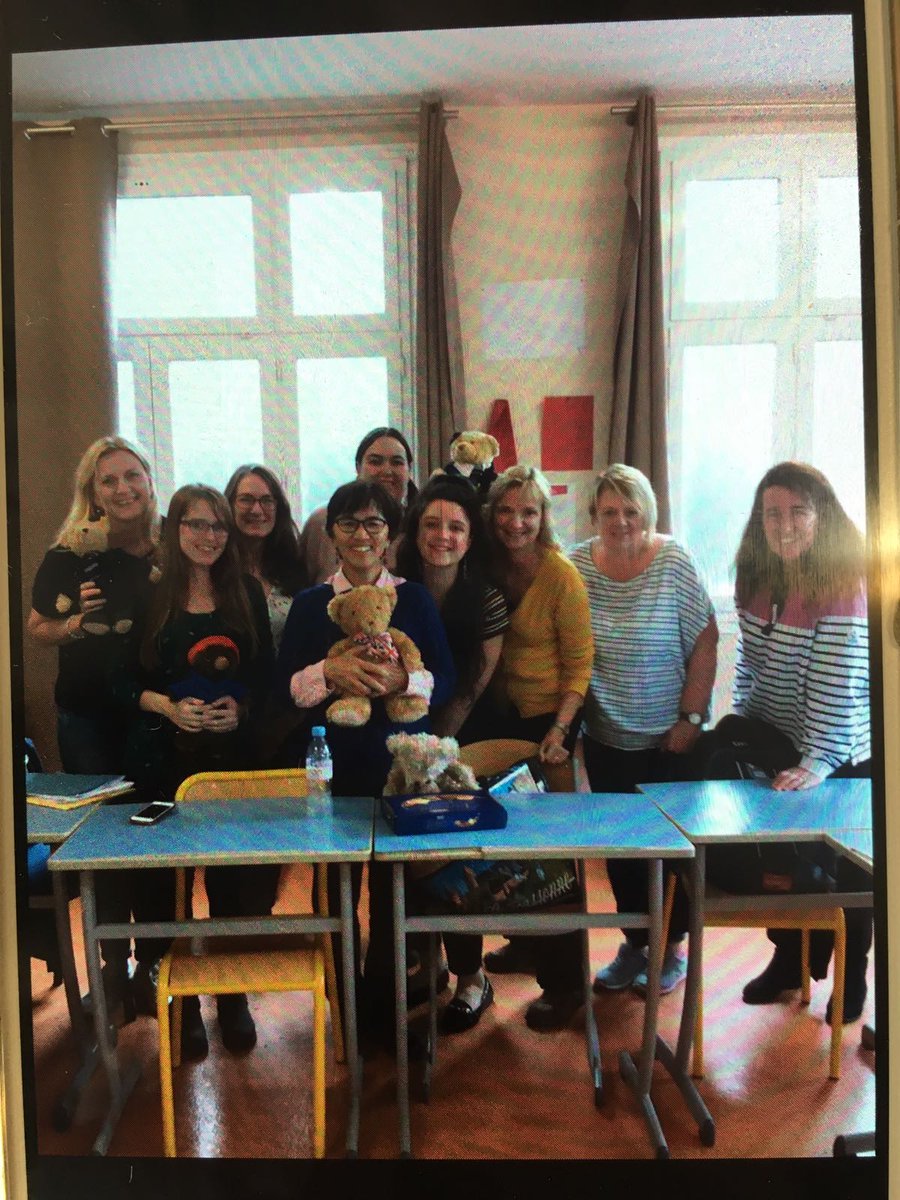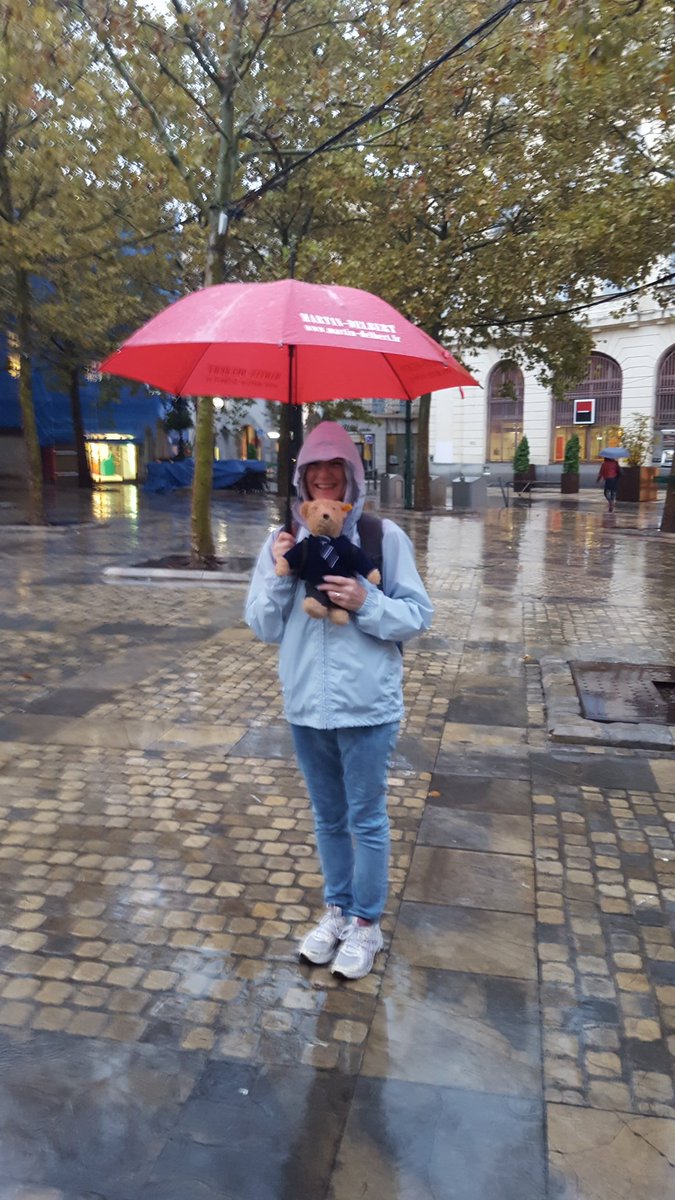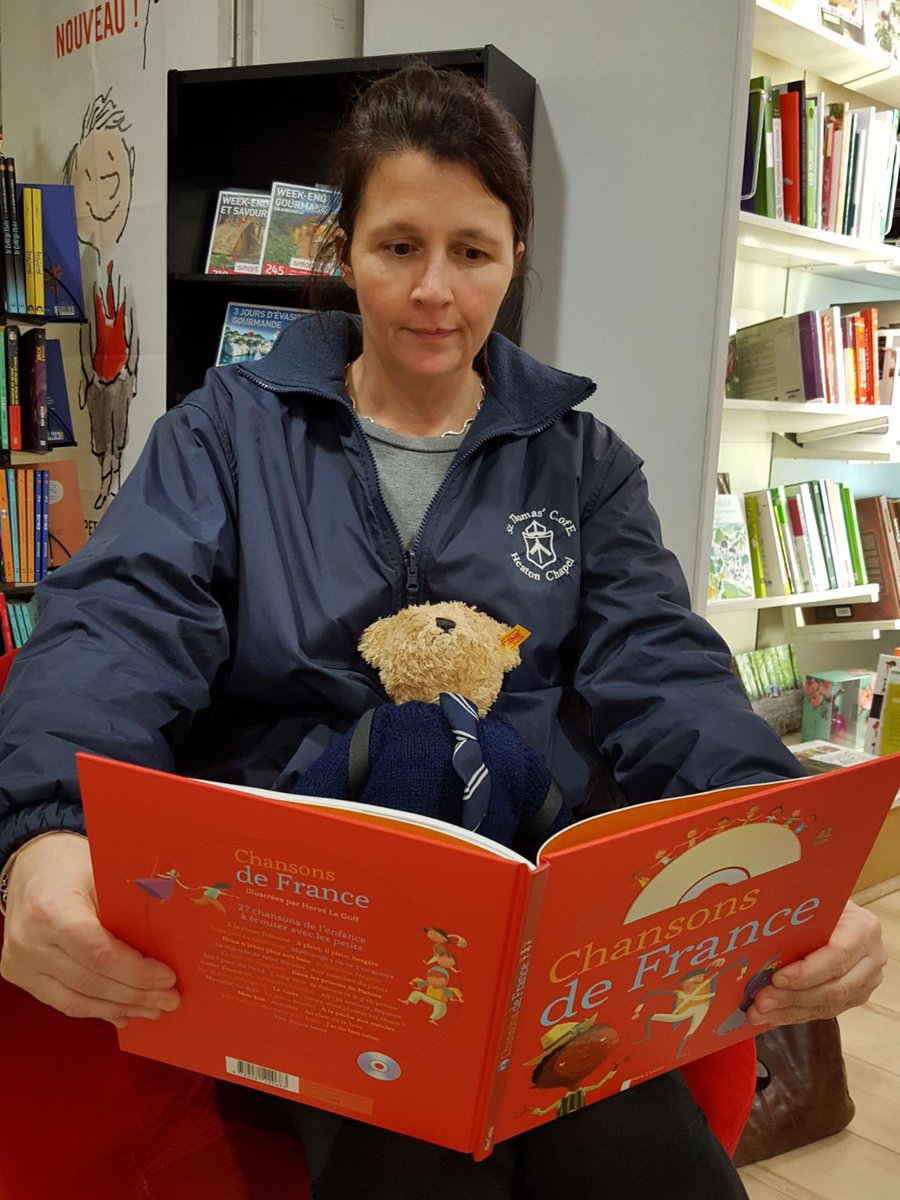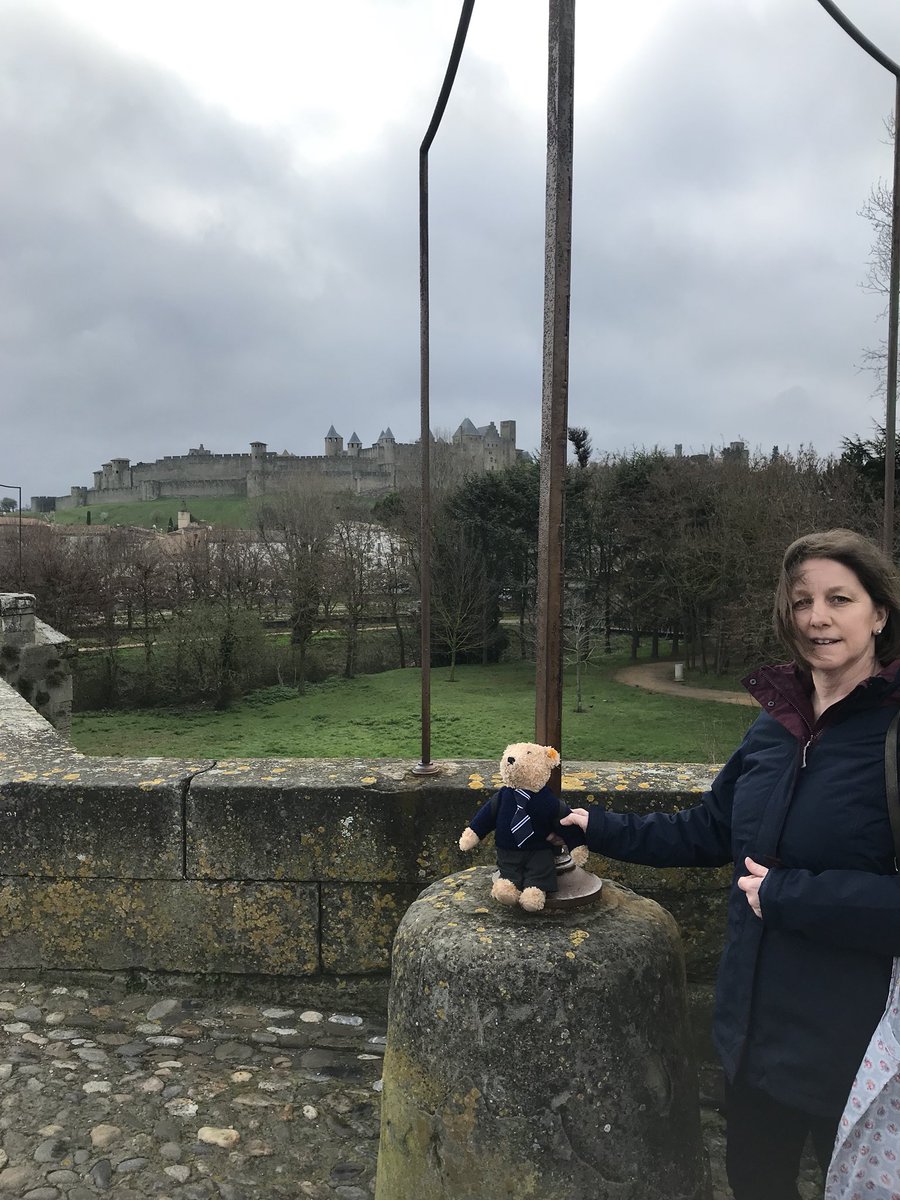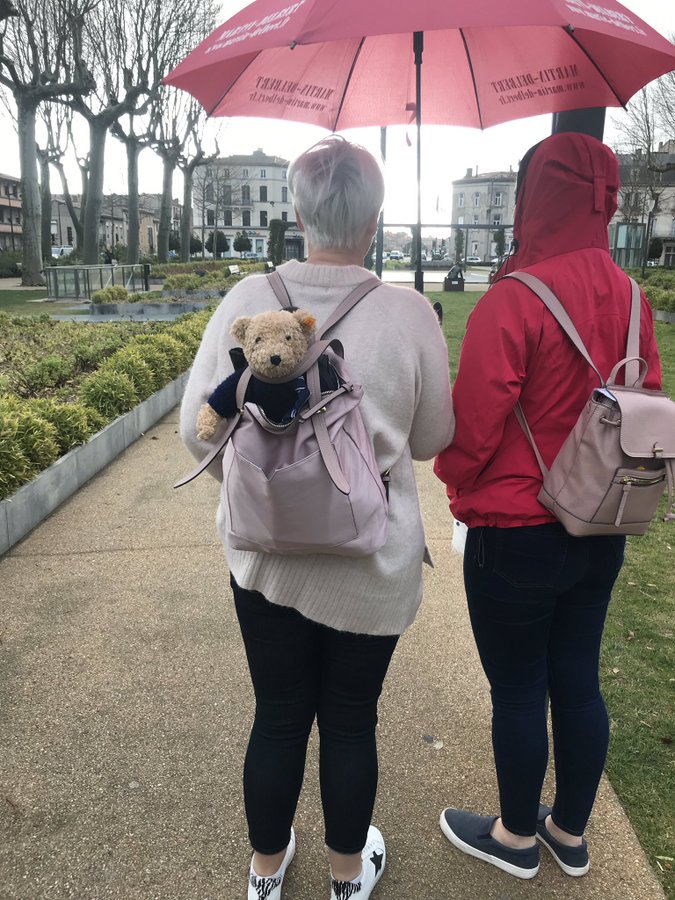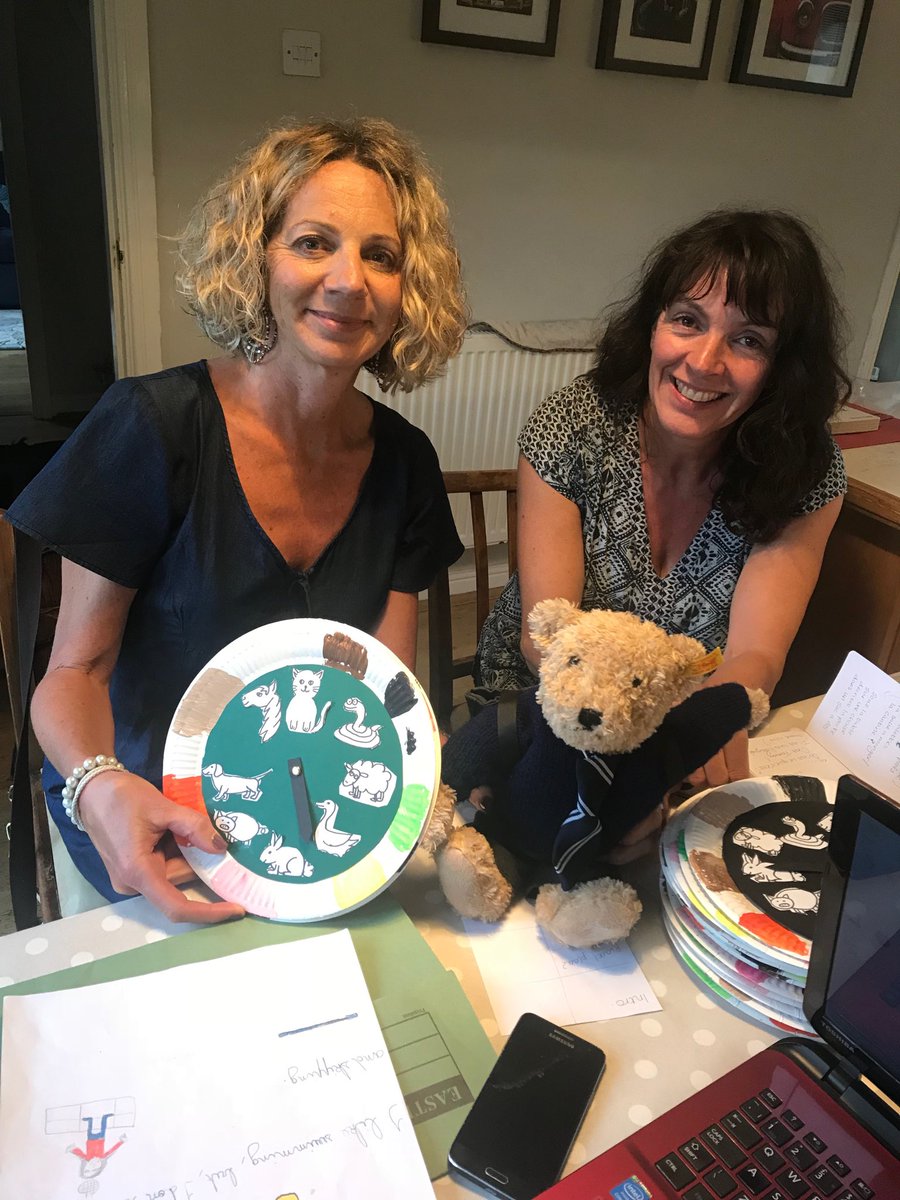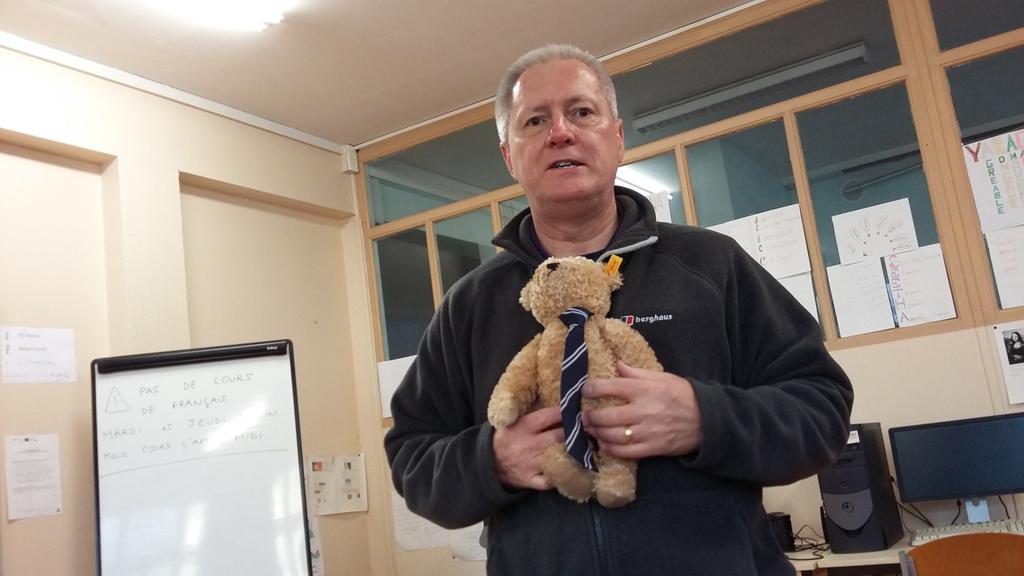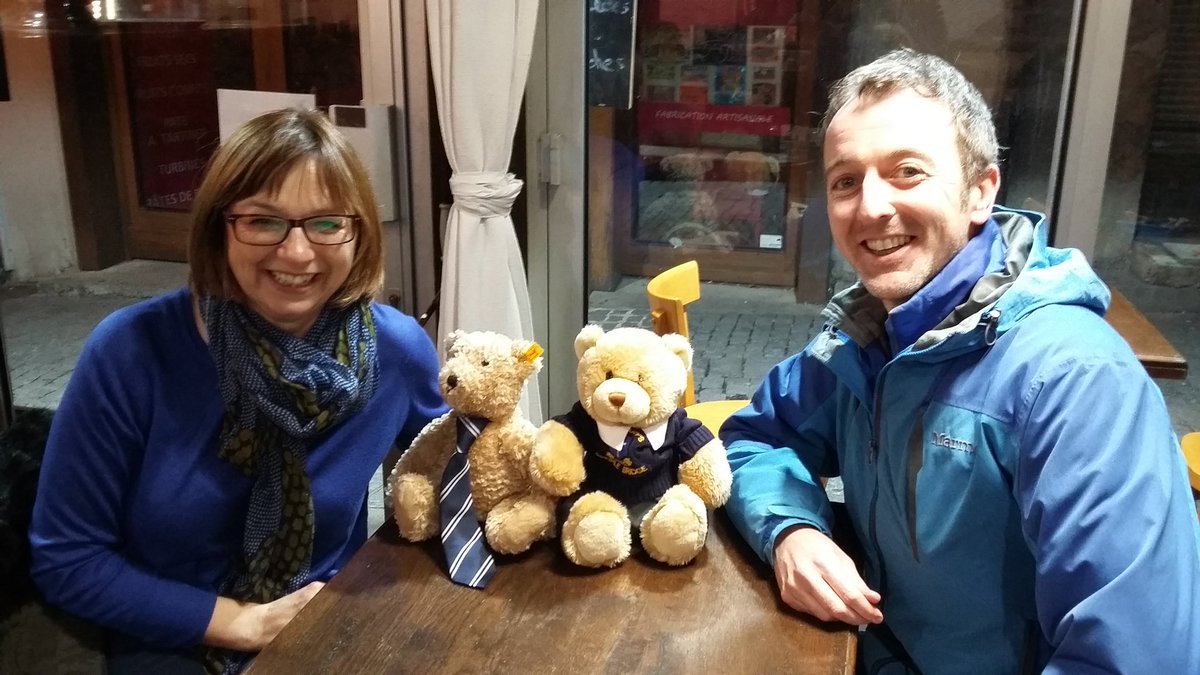 Staff who went to Carcassonne during 2017-2018 are: Miss McCalla and Mrs Gallagher; Miss Loynes and Mrs Follows; Mrs Whitehead and Mrs van Bergen; Mrs Shaw and Mrs Solway; and Mme Taylor and Mr Campen. In addition, Tommy Bear has been on ALL the trips – lucky bear!
FOREIGN LANGUAGES AT ST THOMAS'
At St Thomas' we aim to foster a love of learning languages and an appreciation of and respect for other cultures. Pupils are taught French for approximately one hour a week from Y1-Y6 and younger children also learn some French during the school year. In addition we aim to broaden pupils' knowledge and interest in other languages by occasionally learning a few phrases in different languages.
We follow the DFE KS2 National Curriculum Programme of Study and our curriculum is also guided by the KS2 Framework for Languages. Games and songs play an important role in language learning here at St Thomas' and we invite you to follow the links included on this website for your own amusement and to deepen your knowledge of French.
Madame Taylor is our specialist MFL teacher and subject lead at St Thomas'. In addition all class teachers are involved in delivering and supporting the teaching of French at our school and Mrs Jorgensson teaches some French to Y1.
Please follow the drop-down box links from this page for information pertinent to each year group.
Primary School National Curriculum – Languages
https://www.gov.uk/government/publications/national-curriculum-in-england-languages-progammes-of-study
Year 1/EYFS: SONGS FOR YOUNG LEARNERS…
Pomme de reinette et pomme d'api
ITALIAN CLUB
Hopefully we can start up our Italian club once again. In the meantime, why not have a go at some of these activities?
ALPHABET You might be interested in the Italian alphabet sounds. Note that there are only 21 original Italian alphabet letters!
LA LETTERA A ….This clip practises using words that start with 'A', 'B' and so on. There are some you might easily guess; others are very different!
http://www.digitaldialects.com/Italian.htm
https://www.euroclubschools.online/italian-quizzes
https://www.euroclub-schools.org/songs-for-learning-italian
https://www.euroclub-schools.org/italian-teaching-resources
https://www.education.vic.gov.au/languagesonline/italian/Italian.htm
EDUCANDY GAMES: follow the links
DUOLINGO
Y5 and Y6: remember you have a Duolingo account and can use this for practising Italian as well as French. If you have forgotten how to log in send Mme Taylor a Dojo message.
Tu scendi dalle stelle: a Christmas song in Italian
È la notte di Natale – another song in Italian
OTHER LANGUAGES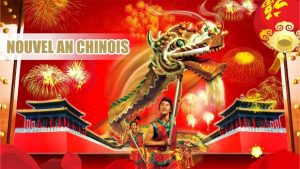 CHINESE NEW YEAR 2021
Chinese New Year is on 12th February this year. Do you know any of the traditions surrounding this celebration? Normally it is a time of great celebration in China and throughout the world. You could watch this video to get a idea of how it is usually celebrated in the UK. This video shows the origins of some of the traditions around Chinese New Year.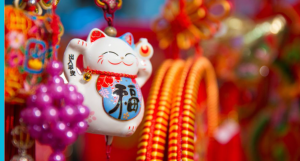 You could also follow this link to find out more information and to do a quiz about Chinese New Year.
Lots more information about Chinese New Year on these Twinkl fact cards: Chinese New Year Fact Cards
Are you interested in learning more about languages spoken in China?
Cantonese is an important language in China, but Mandarin is the official spoken language with more than 900 million native speakers, making it the most widely spoken language in the world!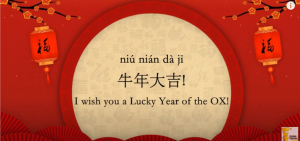 How to wish Happy New Year: watch this clip
Chinese language link to languagesonline to find out more about Mandarin Chinese
Chinese New Year 2016 in Mauritius
Try out this link for lots of games!
CELEBRATIONS IN FRANCE AND THROUGHOUT THE WORLD
We love learning about celebrations in other countries and enjoy comparing how other cultures celebrate familiar festivals.
MAY DAY and 8TH MAY
1st May (le premier mai) is both a celebration of working people and the 'Fête du Muguet' – festival of lily of the valley (which is a flower).
It is traditional to give Lily of the Valley on the 1st May. In French, this flower is called "muguet".
The flower is believed to bring good luck and smells wonderful!
On 1st May 1561, the King of France, Charles IX was given "muguet" for good luck. He started the tradition of giving the flower on the same date each year to all the ladies of the court.
8th May (le huit mai) : on this day French people remember the end of the Second World War (la Deuxième Guerre Mondiale). You may remember that last year in the UK we held a special commemoration as it was 75 years since the end of the Second World War, which ended in 1945.
You might like to mark 1st May in a creative way! Why not make a poster or a card with your own 'muguet'? This is what it might look like: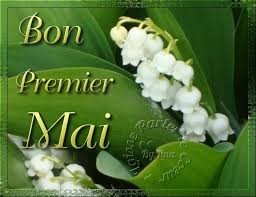 You could watch this video to make your own 'muguet' in origami:
https://www.youtube.com/watch?v=-3ZZVqO2VLY
Or you could watch this video to make 'muguet' using pasta!
https://www.youtube.com/watch?v=qoT8yWbk–o
And here are some more resources which you might like to use!:
CHRISTMAS ACTIVITIES
French interactive Advent Calendar-and link to games and activities (in French!)
Quizziz on Christmas in France – test your knowledge!
Camembear Christmas activities – from Headstart Languages
Trotro et les cadeaux de Noël – clip
Trotro et le sapin de Noël- clip
Euroclub Schools Christmas Page – information and quizzes!
Christmas food educandy link
Merry Christmas in different languages
L'Hiver – song with words by Jacques Prévert
Vive le vent (recognise the tune?!)
Mon beau sapin (another familiar tune)
silent-night-stille-nacht-douce-nuit
LA FÊTE DES ROIS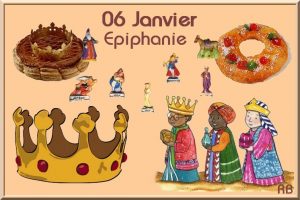 12 days after Christmas – on 6th January – French people celebrate 'l'Épiphanie' – Epiphany.
This festival celebrates the 3 kings who visited the baby Jesus. There are special customs and traditions in France that happen on this day – do you know what they are? This clip will give you a clue!
On this day families gather to share a special cake called a 'Galette des Rois'. Whoever finds the special 'fève' inside the cake gets to be king or queen for the day!
If you would like to see a recipe for the 'Galette des Rois' click here or download it: la Galette des Rois recipe.
Please note that the 'Galette des Rois' contains almonds, which some people can't eat due to allergies. If you would like a recipe for a nut-free version (in French!) click here.
Research: do you know which other countries celebrate Epiphany? Do they have any special traditions? What does the Bible say about the arrival of the Three Kings?
Older pupils might like to read this parallel text which explains more about 'l'Épiphanie' parallel text on epiphanie
Other activities: you could try making a crown and persuading your family to let you be in charge for the day! We would love to see photos of you in your crown if you send them to your class teacher. Here is a template couronne-à-découper if you wish to use it.
EASTER ACTIVITIES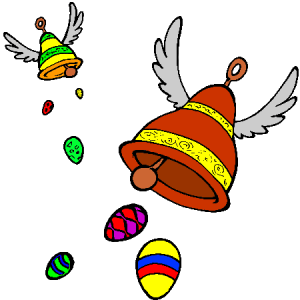 We love learning about celebrations in other countries and enjoy comparing how other cultures celebrate familiar festivals. There are lots of activities here for you to explore how Easter is celebrated in other countries. You might like to find out the significance of bells and fish for Easter celebrations in France…. Joyeuses Pâques!
Nathalie Paris describes Easter in France in this clip and talks about 1st April in this clip!
Link to Euroclub schools which has lots of information and activities about Easter in France, Italy and Spain
La légende des cloches de Pâques: clip
Foufou Spécial Pâques: a fun clip for French children
Easter in Italy – some interesting facts about Easter in Italy
Italian Easter food – delizioso!
Make an Italian Easter card! : Biglietto-Pasqua_17
How to make an Italian Easter card – follow the instructions!
WORLD BOOK DAY
To help us celebrate World Book Day in March our pupils looked at some of the many French books we have in school. Here are some links if you wish to hear some of the books read aloud by native speakers:
Also…
guess the book French to English