Chester Zoo
We had a wonderful time at Chester Zoo this week. We thank you for supporting us in allowing this opportunity for the children. It has really inspired the children and should help us to do some wonderful work based around animals.
Children in Need
Thank you for all of your wonderful support today for Children in Need. The children enjoyed having wacky hair/hats.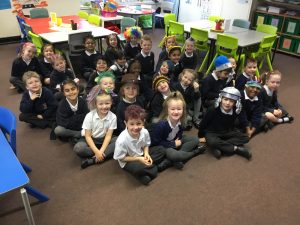 Remembrance Day
We shared a story to think about Remembrance Day and made poppies.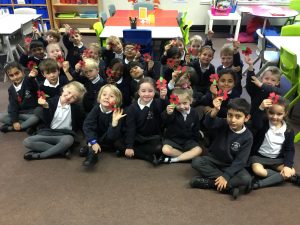 School Closure
If you would like to do some learning with your child this week when the school is closed then here are some ideas.
Reading
Please continue reading with your child. Read the school books, story/information books you have at home or take a trip to the library. Some of the skills you can work on with your child are:
· Link the stories to their own experiences
· Talk about the title, pictures and the different characters
· Learn and recite a poem from heart
· Join is discussions about stories that are read to me.
· Make predictions about what you think might happen next.
Phonics
Continue to play games related to our phonics phonemes (sounds). We are just about to finish recapping phase 3 with a focus on all children being able to read and write the phonemes within words. Play games for example place words/pictures around the house and get them to find and read/write them. There are also many phonics games you can play online which you can find here http://www.st-thomasheaton.stockport.sch.uk/ks1-phonics-links/
Writing
This week we were planning on re-writing the story 'Supertato Veggies Assemble' with a focus on our year one writing skills. You could read a story of your choice and think about building up to a final piece of writing. You could retell the story, act out different parts, practice writing the key vocabulary in the story (such as characters names which may not be spelt phonetically), talk about the characters feelings and create a storyboard with pictures. Some of the writing skills we would be working on are:
· Holding my pencil correctly
· Spelling tricky words
· Forming letters correctly (starting at the right place)
· Saying a sentence before writing it down
· Re-read what I have written
· Leave spaces between words
· Use a full stop and capital letter in my sentence
Maths
In maths this half term we have had a big focus on number and calculations. Some of the skills you can work on are:
· Counting objects accurately
· Recognising numbers up to 100
· Count forwards and backwards from any given number
· Find the number one more and one fewer (less) than a number
· Adding and subtracting two digit and one digit numbers up to 20 e.g. 14+4=
Topic – Superheroes/Stories by Sue Hendra
RE – We have been learning this half term about 'The Harvest Festival'. What it means to help others, why we would want to help people less fortunate. You could write a prayer, research how farmers harvest different things or think about ways to help others.
Science – We have been learning about our bodies including naming the different parts of the body, naming our five senses and what each sense is for. You could make a senses poem or draw around your child with chalk and label it.
Art/Design – We have been working on drawing self-portraits so you could draw different members of your family. Why not design and make something possibly using junk modelling, Play-Doh or natural materials.
Geography – We are thinking about our local area including where we live, things in our area and the countries in the United Kingdom. You could go for a walk around where you live and take pictures of different things. Make a poster looking at the positive and negative things around where you live.
In terms of the children's physical education make sure you give them plenty of opportunities to run around. Maybe a trip to the park or a long walk.
Superhero Day
Thank you for sending your children in their costumes they looked fantastic. It has been a great start to our new topic all about Supertato by Sue Hendra.