Current Fundraising
SMARTIES CHALLENGE IS BACK TO RAISE MONEY FOR OUR SCHOOL!
Children bring home the SMARTIES tube on 12th October and EAT THEM!
Ask family, friends or carers to donate maybe for little jobs or chores.
20p and £1 coins fit neatly into the tubes (please no copper coins) When the tube is full,
please write your name and class on the sticker and return to school by 6th November.
This year we are fundraising to pay for upgrades to the playgrounds at both Infants and Juniors. This will include the expansion of the outdoor education provision, playground games and storage at both sites.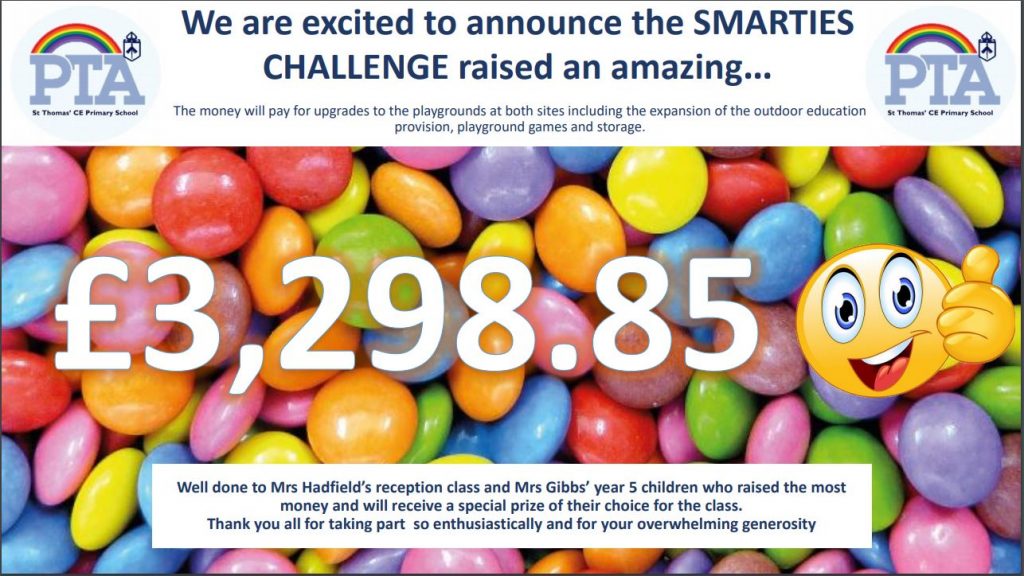 Thanks again to everyone who helped to plan, organise and run events last year and watch out for details of some new initiatives coming soon!
We always welcome new ideas and volunteers so please get involved! Remember the PTA are just a group of parents, carers and staff just like you! We all come together to give whatever time or skills we have to try to raise money for our school and our children.
We hope you can join us for our AGM and if you have any queries ahead of the meeting, please email Rhian Greaves, PTA Co-Chair: rhiangilligan@yahoo.co.uk