YEAR 6 FRENCH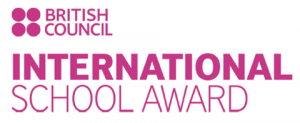 Being a Linguist Year 6
UPDATE 30 mars 2020
DID YOU KNOW… On 1st April (le premier avril) French children like to play a trick – they try to stick a paper fish on someone's back! Maybe you could have a go yourself this Wednesday!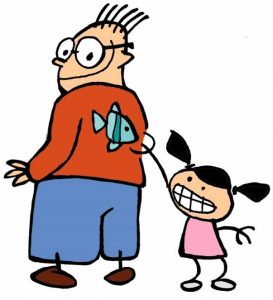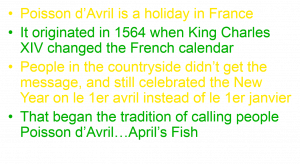 LATEST LINKS FOR YOU TO TRY:
Digital dialects is a useful website where French native speakers say the vocab you are practising. Try these links:
Also… keep going with Duolingo; I have seen lots of you are using this, well done! Educandy is also very useful for practising the topics we have covered in class; see the links below. Bon travail!
MYSELF, MY FAMILY, MY HOME, MY LOCAL AREA
Revision of common questions and answers: go to www.educandy.com and enter the code 4835
More Educandy games: www.educandy.com code 1377 and 137b
Ma famille game
Il a les yeux rouges (descriptions) song
Les couleurs et les descriptions games
Les descriptions games
Rooms in the house – vocabulary
Les pieces de la maison (rooms in the house) games
Places in town Educandy game: go to https://www.educandy.com and enter the codes 21ac and 3d00
Chez moi Educandy game: use code 4fc2
GEOGRAPHY OF FRANCE
Dans Paris il y a une rue – poem by Paul Eluard
.A-paris-il-y-a-y6 vocab
La Marseillaise song
la-marseillaise-chorus lyrics
VARIOUS
La Fête des Rois Quizziz: https://quizizz.com/admin/quiz/5e10cb1994f70d001b8e4adb
Les cloches a Paques (Easter tradition in France) clip
Numbers song to 50 song
Numbers to 60 Educandy game: go to www.educandy.com and enter the code 28f6
Les nombres 1-100 games
Les nombres 1-100 #2 games
Les virelangues tongue twisters – clip
Common phrases online practice game (uses 'vous' form)
SEE ALSO Y5 AND Y4 GAMES AND LINKS!
Just landed in my inbox:
'Free 3 month access to PowerLanguage online French Course details below:
Learn a Language: French for Families The PowerLanguage team would like to offer their support to children and their families whilst they wait out the reopening of schools. Why not take this opportunity to learn French together as a family? We have opened up our successful French for Families course with no subscription fee until the end of June 2020! Go to powerlanguage.courses/forfamilies to start learning! Amusez-vous bien !'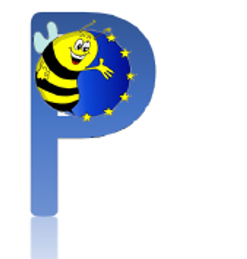 PRIMARY BEE : AN UPDATE
Our Y5 and Y6 pupils have finished their testing for the Foreign Languages Primary Bee and have done fantastically well! They learned 40 high frequency words and then had to say as many as possible with clear enunciation within one minute. Well done to all our pupils who took part in this initiative!
VOCABULARY LISTS