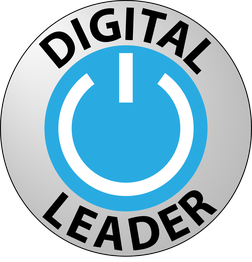 St Thomas' Digital Leaders
Welcome to St Thomas' Digital Leader's webpage! We are a group of KS2 children that work closely with Miss Page to develop Computing and Online Safety in our school. We are the voices of the students in our school and meet regularly to discuss and feedback pupils ideas and opinions.
Keep an eye out on this page for regular updates and information!

Action Plan for 2017-2018
Aim:
Actions:
1. Display SMART Rules and CEOP Posters in all classrooms.
Digital Leaders in every class to remind class teachers and other pupils of these posters every time laptops or iPads are used in lessons.
2. Launch iPad and Laptop timetables and iPad checklist.
Every Lesson, Digital Leaders will hand out and collect iPads at the beginning and end of Computing lessons. When they collect the iPads in, they will need to check them off the list inside the iPad trolley.
3. Deliver an Online Safety Assembly.
Children will lead an online safety assembly on Safer Internet Day 2018.
4. Plan activities for Safer Internet day.
Children will come up with ideas for Safer Internet day and Miss Page will suggest these to class teachers.
5. Digital Leaders to team teach Computing lessons with teachers.
Some Digital Leaders will be given the opportunity to team teach Computing lessons with Miss Page and other class teachers and mentor their peers.
Action Plan for 2018-2019
Aim:
Actions:
1. Recruit Y3 Digital Leaders.
Digital Leaders will look at the Y3 applications and decide which children will become Digital Leaders for our school. Some Digital Leaders will announce this in assembly and award the Y3 Children with a certificate and a Digital Leaders badge.
2. Run a Parental Workshop
Children will deliver and run a parental Computing workshop.
3. Gain training on key apps, programs and equipment.
Children will be trained on Scratch, Codebugs, Lego Wedo 2.0, iMovie, Green Screen, Lego Movie, Comic Life and book creator. This will be so they can assist their teachers in Computing lessons.
4. Launch a Computing film competition
Launch the Computing Competition in assembly before October half term. Make posters to display around school. Help with judging the final nominees and hand prizes out to finalists and winner.
5. Deliver an online safety assembly during internet safety week.
Children will plan and deliver an assembly linked to the internet safety week theme.